Teatime4App
The degradation of organic material is crucial for the growth and metabolism of plants and microorganisms: decomposition and mineralization make the required nutrients available. This also releases the greenhouse gas carbon dioxide (CO2) into the atmosphere. Rapid degradation leads to increased CO2 emissions, while slow degradation increases carbon storage in the soil. In order to better understand the global CO2 cycle, it is therefore important to gather more information about the decomposition rates in different soils.

With this tea bag method, even lay people worldwide can make a valuable contribution to science and the environment: They simply bury tea bags in the ground, dig them out again after some time and weigh them. Weight loss indicates how much plant material, in this case tea, has been decomposed. This simple and cheap method for determining decomposition rates has been scientifically confirmed and corresponding initiatives have already been launched in numerous countries around the world.

With these experiments, comparable data can be obtained worldwide, especially from regions for which no corresponding information is yet available.

In the project TeaTime4App the AGES - Austrian Agency for Food Security - will create an educational app. The method of the Tea Bag Index (TBI) is used as well as the teaching materials that were already compiled in the TeaTime4Schools project. The TBI measures the degradation rates of buried tea bags within three months using a standardised method. The method can easily be carried out by "Citizen Scientists", such as pupils, teachers and other interested parties. The app will allow the schools and Citizen Scientists involved to make the project simpler and less dependent on an accompanying research team. This could enable schools to include the method in their curriculum.


Target group: Agricultural schools
Project duration: 1 year (15.1.2019 - 31.12.2019)
Activities for schools: Feb-Apr 2019 (Evaluate materials), June - Sept 2019 (Test tea bag method and app)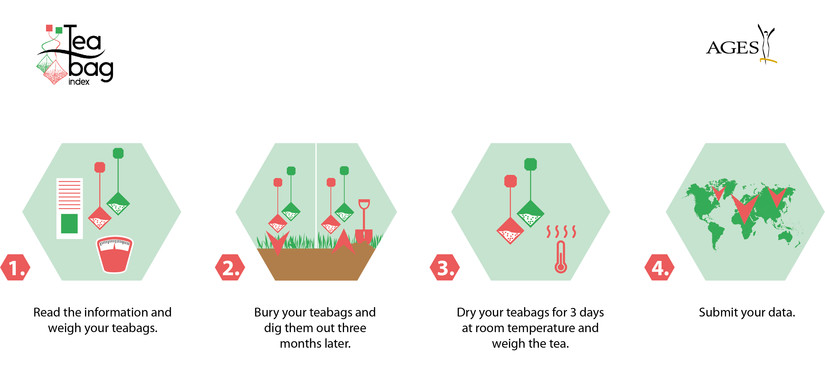 Project by